My wife and I have decided to take in another homeless motorcycle. We first saw it Saturday afternoon, and it just looked so sad and pathetic with nobody to love it, so we decided to adopt it. Unfortunately the orphanage was closing for the day, so we had to wait until Monday, Apr 16 to pick it up.
So here I am, picking it up from the orphanage:
And my son, looking up at me and saying, "Is this for me?"
When we got it home, it was feeling a little unsure and camera shy, so it tried to hide behind the other bike at first: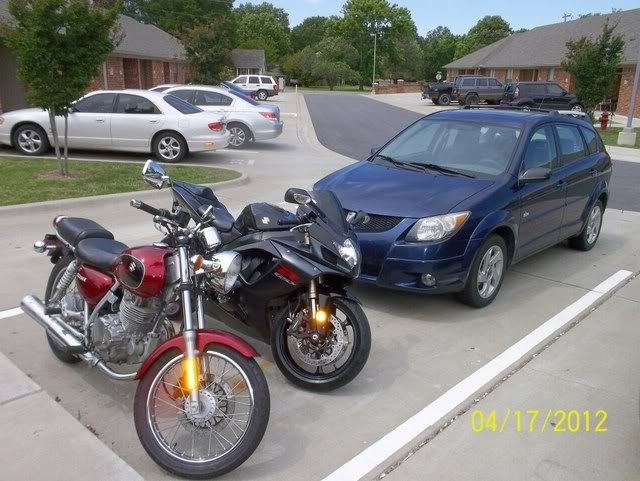 But I outsmarted it and snuck around behind it and snuck in one more pic:
So, yeah, it's a very nearly stock 07 600. Only aftermarket stuff I've found so far is the tinted Hotbodies windscreen, frame sliders, a fender eliminator that looks even cheaper than the $2 Home Depot brackets I used on my 06, a seat that might be the custom seat available form Suzuki, and some silly red LEDs in the engine area. It even has the (best-looking-ever in my not even slightly humble opinion) stock exhaust. It only has 16,200 miles, so it's not even broken in yet. It's not perfect, but it is 5 years old. If I wanted perfect I would have bought a 2011 and paid more than double what I paid for this one.
Just one more thing: two years riding a retro standard type bike was enough to make me completely forget how a supersport feels. Holy crap I felt awkward on the ride home! But by the time I got here it was starting to come back to me.
I'll try to keep the rubber and/or knee slider side down.